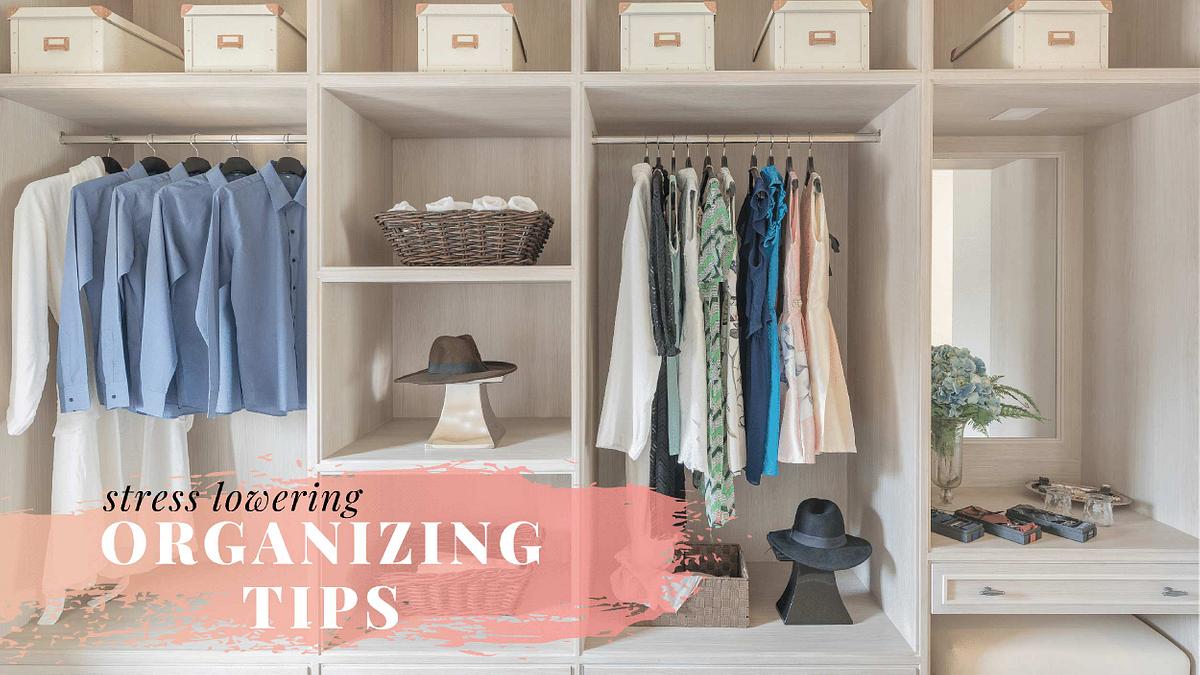 DITCH IT - IF YOU DON'T WEAR IT
Having a lot of stuff has been proven to create unnecessary anxiety. This includes clothing. If you have tons of shirts, pants, shoes, etc that you haven't worn for at least a year, get rid of it! It creates more responsibility for you to manage, clean, and put away, and you have enough to do! So ditch/donate the clothing items that you won't wear, or hold no emotional connection to you! (You can't give that ugly Christmas sweater away though!)
SPACE SAVERS
I know for myself, one of the most stressful areas of my home is where everyone drops their shoes off. We don't wear shoes in the house (for obvious reasons), and so we usually drop the shoes off at our cubby station near the front door. The system is good, but – I notice that seeing all the shoes crammed in the cubby's gives me more anxiety than it should. So I implemented bins with it. So now shoes get stored but they are out of sight when not used. It's streamlined and makes sense! Do you have a system like this? You really can do this in any spot in your home.  Think about closet systems that will make your closet tidier, baskets in your kitchen cabinets for Tupperware that won't stack, or how about purchasing a shirt folding tool so that your garments are stacked nice and neat, allowing more space for future apparel? Smart hacks like these will help lower stress, and save you time and energy for better things!
PREPARE FOR "FA LA LA"
I know, its crazy to start preparing for Christmas now, but it's literally coming right around the corner. Shopping mahem, cooking like crazy, and stuffed to the brim – I need a nap moments are soon to invade your life! So to save yourself a lot of panic attacks (just me?), start planning for the most wonderful time of the year – now. 
 Start deep cleaning now, so when you host a party – your not overwhelmed.
As you grocery shop through the following months, purchase things you'll need for your parties, and gifts. (Wrapping paper, tape, ribbon, etc.)
Do you have any major things that need taken care of? Driver's license needs updated? Dental appointment you need to schedule? Do it now, so your not overwhelmed during December. 
Lets talk clothing – Do you dress up for holiday parties? Don't procrastinate! Start planning your style now, again – so your not overwhelmed!
Regardless of what you choose to do to organize your home or plan for the holiday season, just have fun! Life is not about stress – its about living your best life! So do a little each day and you will be on your way to a more relaxed, and enjoyable holiday season!
Thank You!
I know your super busy with life! That's exactly why I have created these busy mom bites! Who has time to read super long blog post's?! Not me, and most likely not you! I hope these quick helpful tips will bring some value and joy to your life! You can check out some of my other busy mom bites listed below! Be sure to not miss my bi-weekly newsletter catered for you!