When I was little, my mother would take me to one of the only home décor stores in town. Now this was back in the late 90's early 2000's (boy does that show my age!), but there was no Hobby Lobby or Michaels at the the time. My town was much smaller then and big box stores like Walmart, and Kmart dominated consumer purchases. However, there was one well dressed townie consumed home furnishings store that has stood the test of time. I'm not sure when Prairie Gardens first opened, but it has always been a part of my life. A staple, like baked apple pie, or your moms homemade macaroni. Its just been there, and I'm thankful for that! 
We stopped by Prairie Gardens this past Saturday to check out some of the décor options for this Fall. They didn't disappoint. The store was packed with beautiful décor throughout. Today I want to share with you some of my favorite picks! I will be completely honest when I say, I haven't been to Prairie Gardens in years. I haven't had a need to, and I remember they were a little more pricey than Hobby Lobby, but  not as pricey as Michael's. However, after looking at their prices, I realized that they have definitely become much more competitive.
When you first walk in to the left, they have a themed Halloween section with tons of décor for cute, yet creepy settings. I didn't get any pictures of that because I'm only looking for Fall themes, and my blog length is limited too! (Gotta save that time!)

After passing the packed Halloween section I noticed a really lovely boutique. I didn't even know they had a boutique! Lots of fall-themed clothing and accessories adorned the hangers and their walls. Traveling accessories, lotions, and jewelry were presented as well for the choosing...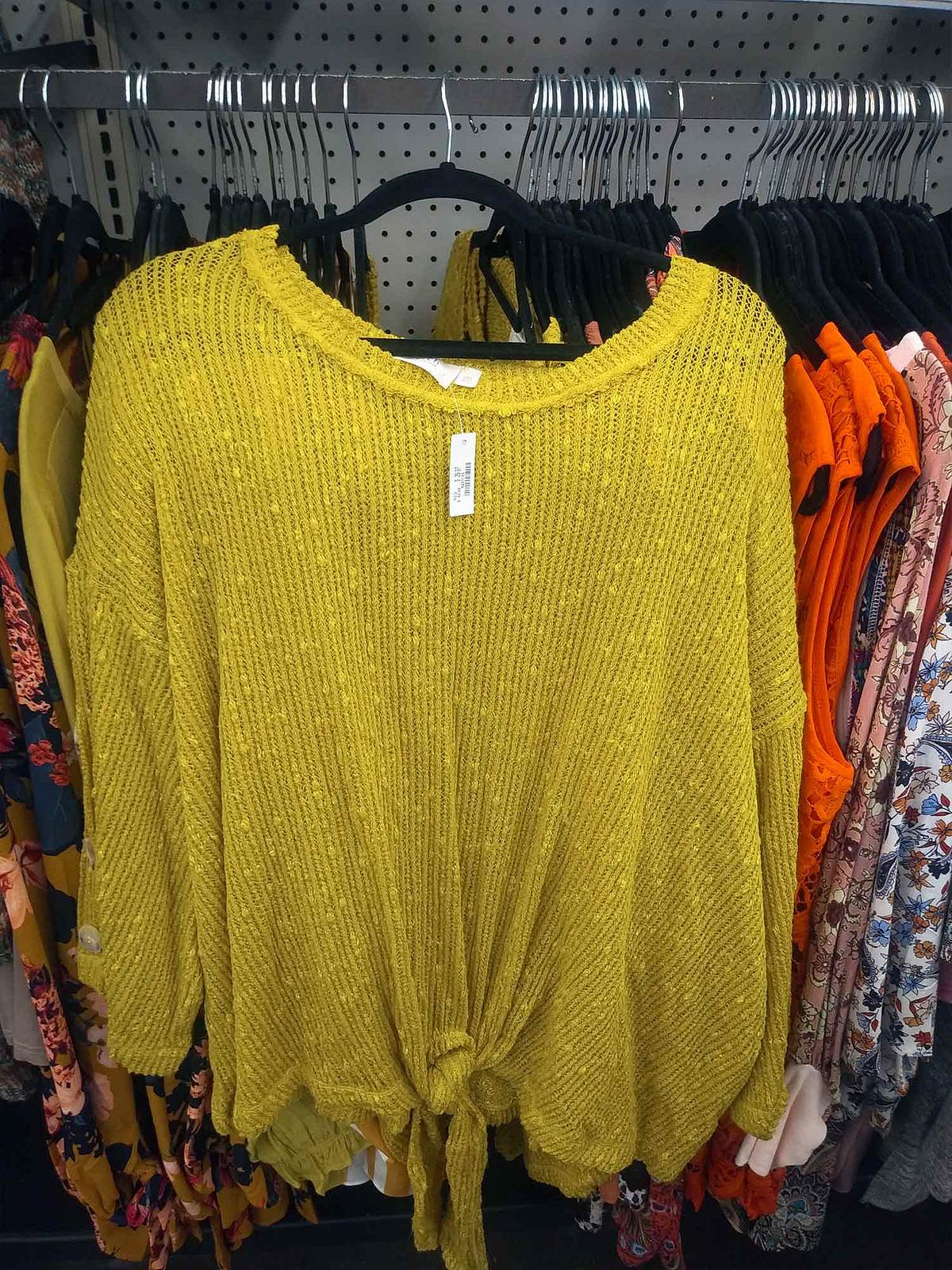 So cute right? I love the mustard color! It puts me instantly in a Fall mood! There are so many Fall options available and if you keep scrolling you can see most of my favorites (but there are alot that I couldnt take pics of) So be sure to go through the racks if you decide to check them out!

As I mentioned before, they don't just have clothing, they also have tons of accessories at cute table displays. The store clerk in the boutique was very nice and chatty. She let me ask all the questions my heart desired and was very kind when she responded. Bless her! We finally decided to move towards more of the décor center, which is what I remembered most when I visited with my mother as a small child. 
Rustic, warm, sugar, spice, brown, green, yellow. This is what fills Prairie Garden's as you walk through it. They have so many different styles, not just the typical fall colors. I love your standard Fall tones, but I also love unique, and eclectic fall decor.

Ok – that about wraps up my review for Prairie Gardens Fall Favorite Items. I hope you got a feel for the really nice options (which are many) they have there! But before I let you go, (because I am trying to make this post a little short and sweet) I just want to say that if you are in the market for Fall décor for your home definitely give Prairie Gardens in Champaign, IL a try! Its a beautiful store, the employees are lovely, and their prices are very competitive! I'll leave you with the gallery of my favorite finds this year! Happy Fall!


Thank You!
I know your super busy with life! That's exactly why I have created these busy mom bites! Who has time to read super long blog post's?! Not me, and most likely not you! I hope these quick helpful tips will bring some value and joy to your life! You can check out some of my other busy mom bites listed below! Be sure to not miss my bi-weekly newsletter catered for you!