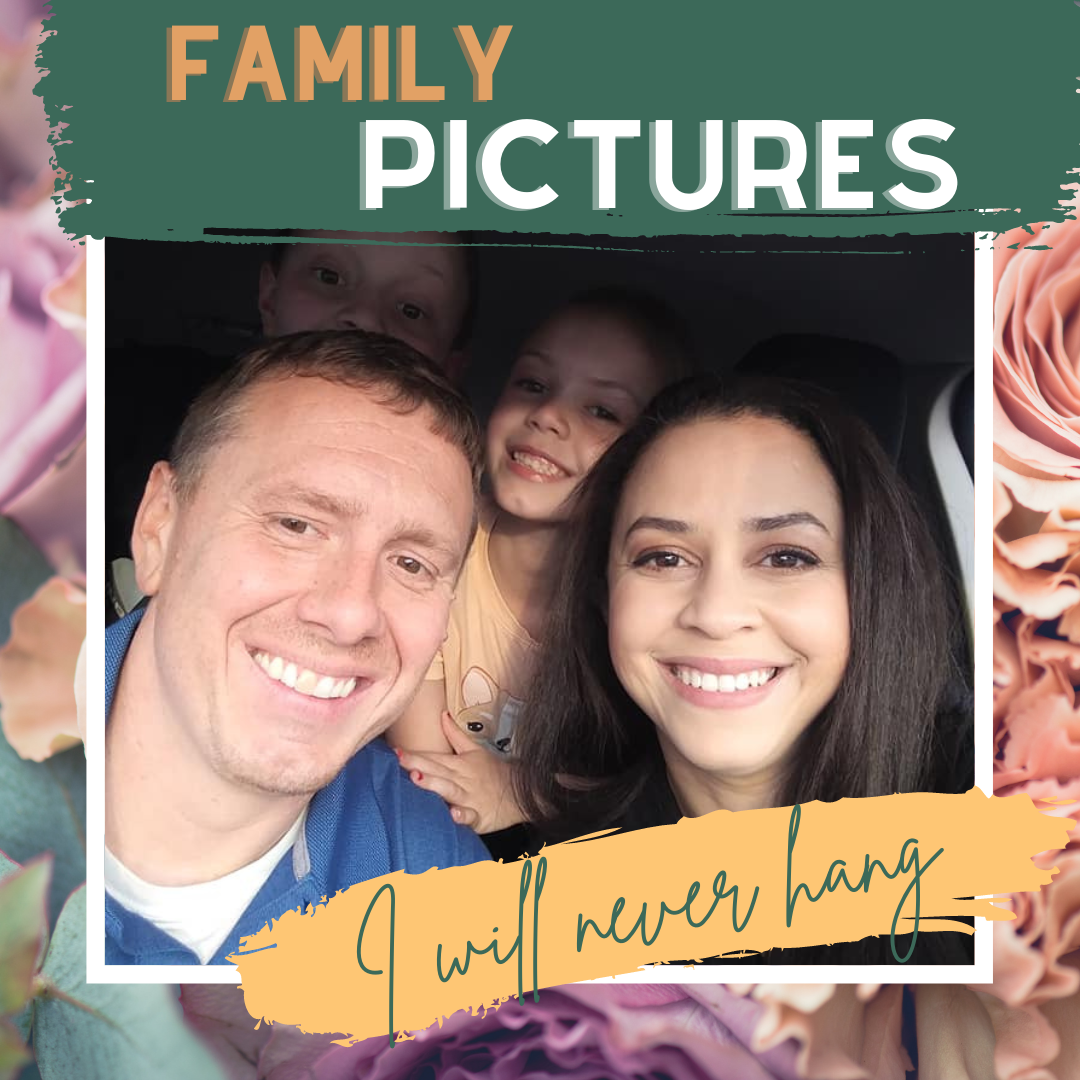 I love this picture! I truly do! We snapped this picture really quickly in my car, to celebrate our 13th wedding anniversary - kids in tow. We had a great time, but, this picture, like so many others that I have taken with my low-quality cell phone, will never be on my walls. It's sad, but it is a true fact. I have thousands and thousands of pictures just like this. So many that I will love and cherish forever... when I remember to look at them. Or if Google reminds me that it happened "on this day" years ago. But sadly, this is not a prized "portrait" of my family - and if you look closely, you can hardly see Draven. Lol. 
The truth is, I don't have any current portraits of my family on my walls. I haven't had the time to take them. I know, I should be ashamed of myself (sarcasm), but really its sad, and it makes me a little disappointed in myself, because there's really no excuse.
I am now hunting for outfits for our family portraits, because we need updated ones. I will be taking them in my home studio, and am really excited about it! I am also planning on hanging a beautiful large canvas of us in my living room, and I will keep you updated on that. 
But this is more about a explanation of why most cell phone portraits will never hang on your walls. I dare you to go take another look at your walls and see. 
I have a friend who has a few, because they were in California, and it was a special occasion, but that is rare. When you take family portraits, you plan, and you coordinate to fit the aesthetic of your home. It's not something you just throw together and wish for the best. You want to create timelessness. So when your old, and leave the portraits to your children, they will be proud of them as well, and want to hang them. 
There's nothing worse than hanging an old outdated portrait of your family, because you feel bad if you don't, but it's the elephant in the room when you look at all of your other décor. 
So take the time to think about your walls. What's hanging on them? Is it important for you that your portraits and planned out and flow? If so, I humbly request that you check back and see my progress with my own family portraits, and how they change the entire vision of your home! 
Talk soon! <3