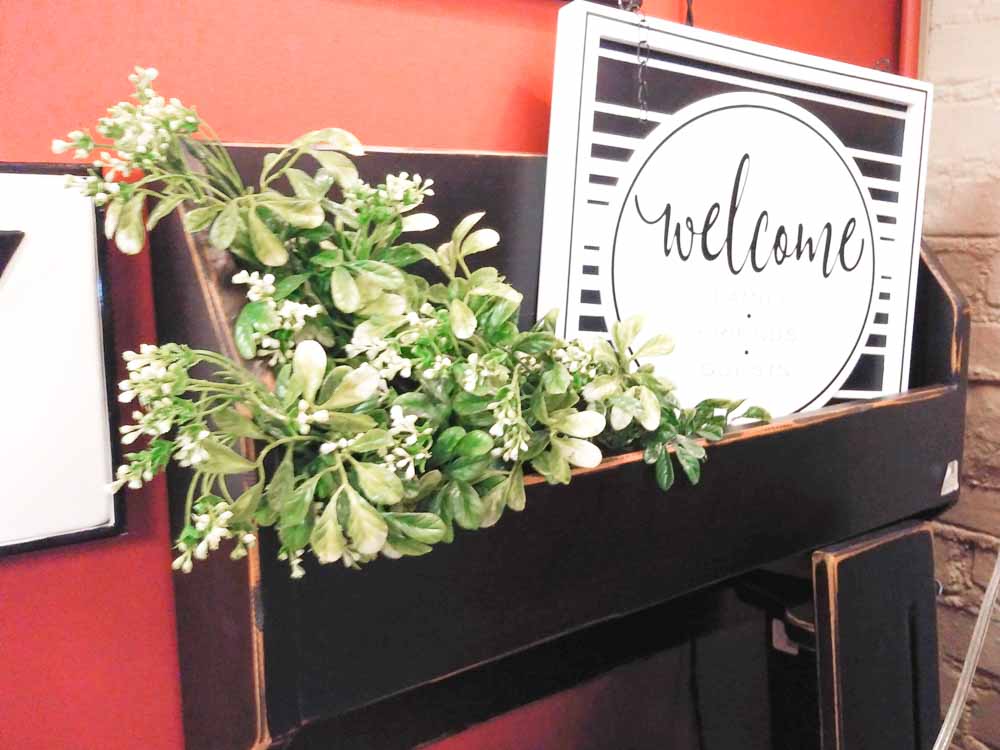 Have you ever had to rush somewhere, maybe work, or you're late for an appointment with so and so, and you turn for a second to reach down and get your coffee, but you forgot it at home? You think… "I hate gas station coffee, and the line at Starbucks is far too long", but your subconscious kicks in, and you remember the local coffee shop just down the road from you house. In that sleepy little town you and your husband decided to raise your kids in… Maybe you will stop there. Try it for the first time.
      Maybe you are a supporter of local businesses, or maybe you really haven't given it much thought. Either way, there is no doubt that no matter what your flare for merchandise, drinks, or meals may be, there is a whole world of small businesses offering treasures to touch, taste, smell, and see! They are typically right under your nose, just waiting for you to pay attention.
              I've said it many times, but this past weekend has really instilled and strengthened my support for small businesses. I loaded up, with my favorite girl in the world, and we took a better part of the day to have ourselves a girls day out while breathing in the country air. I had heard about the Country Springtime Shop Hop, which to my surprise has been going on for a few years now. I'm always looking for new places to visit, and blog about. I wanted to see what were in some of these local shops that to be honest, I had never visited before.
              We moved to our sleepy little town, two years ago... I have to admit, sadly, that I hadn't visited any local stores or restaurants until this past weekend. I know, I sound like a hypocrite, and it's sad, but I'm trying to change. I want to support. So Eden and I visited the first store located in our own town called "Country Chic's". The minute you walk in the store, the smell of fall, Christmas, hugs, and warm cookies hits you. It reminds me of my mother in laws house, and it felt very relaxing and welcoming!
              One thing I noticed immediately about Country Chic's is their large range of candles. They have a lot of them, and they all smell amazing. A whole display full of Archipelago, Cucina cleaning, drizzle melts, kitchen items, coffee mugs, and much more are placed to catch your eye. I bought a coffee mug that I'm obsessed with. It says "Why y'all tryin' to test the Jesus in me?" That sums up my mood when I'm trying to get work done and my kids have a different plan for my day. The shop owner Stacy was very nice, and we chatted for a minute before she gave Eden some cookies on our way out!
              Next door we stopped by the Geschenk Boutique – Coffee & Tea Haus. The barista who made my fabulous St. Patrick's Day inspired coffee was very bubbly, and made one of the best cold brews I've ever tasted. Who knew Irish cream could kick it up a notch! I'll be back for sure! We even enjoyed their side boutique, that had many unique items, and I especially liked the spoon necklaces!
Linda at The Crow's Nest really has a special gem. Her husband supported and built her beyond charming storefront, right off of highway 150 near Fithian. Her displays were rustic, country, but feminine – featuring candles, bags, hats, furniture items, and more than I can write here. I thoroughly enjoyed walking around and seeing what was very clearly her heart put into her store. It made me feel like I was visiting somewhere I hadn't been in many years with my mom, like the covered bridge festival. You can't help but walk around with a smile on your face when you have good memories of your childhood nostalgically speaking, as you look at everything she has. Eden had a great time too, though I had to wrangle her a bit, she was very comfortable there. Linda was kind, and even showed me her full line of "Good Shit" seasonings, and recommended which ones compliment which foods. I had to buy one for my husband. He is a barbeque connoisseur of sorts, and I thought he would appreciate the good humor and fabulous branding!
The last stop for the day was Ms. Becky's, in the sleepy town of Homer. Her little storefront was too cute to boot! Candles, country décor, Easter items, and floral arrangements cover the store from top to bottom. There were treasures hidden, everywhere. I wish I had more time to explore the nooks and crannies of her lovable shop. She really has taken the time to show her customers all of their options, with a warm – homey feel. We talked for a while, about her starting her business many years ago with her husband and how she has been blessed to still be in business even though Covid has really impacted the community at large. She definitely has a heart for what she does! It shows in her store, and her warm, outgoing personality.
I wish I could have visited a few of the other shops on the list, but our day had run short, and we had to get back home. I'm going to include some pictures of all of the displays and items that I really enjoyed. I encourage you to take the time, visit your local businesses, talk to them, and support them. They really are the life blood of our communities, and it's important. I'm glad I got the opportunity to check them out, and for them letting me visit their store and blog about it. I will definitely be back to check out more!